Arivaca Boys Ranch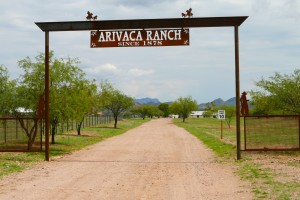 Arivaca Boys Ranch operates on 23,000 acres in Southwest Arizona, at an elevation with a climate similar to inland San Diego, California. Adolescent boys, ages 14-18, from around the Southwest and California, learn life skills on a working ranch that has been in existence for 140 years. Through hands-on participation in ranch activities and a unique therapeutic model, boys improve their decision-making skills and develop more mature thinking. Meanwhile, boys receive the appropriate "book learning" from our accredited school.
The unique therapeutic model at Arivaca Boys Ranch consists of three main tenets. The first is a specialized form of equine therapy. The method, called the "Arivaca Way," goes farther than the common forms of equine therapy. As boys realize that their attitudes and actions directly affect their horse, they learn awareness of their moods and become responsible for the effects of their behavior on others. The second aspect, based on principles from the Arbinger Institute, teaches anger management and inspires positive motivational action in its place. Finally, the environment of the working ranch provides abundant opportunities for responsibility, leadership, and positive peer interaction.
Arivaca Boys Ranch has helped hundreds of struggling teenage boys restore right thinking and renew their relationships with their parents. With a complete academic program, around-the-clock care, and a one-of-a-kind therapeutic model, Arivaca Boys Ranch Provides an effective setting for helping boys straighten out their lives.
How Arivaca Boys Ranch Works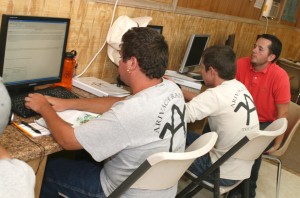 The Arivaca Boys Ranch serves 30-35 troubled teen boys (13 to 17 years of age) each year. Using horses as a therapeutic tool, each boy has the opportunity to experience the rewards of hard work and ranch life while continuing his High School education.
As each teen boy progresses through five levels, he becomes familiar with "Natural Horsemanship." Combined with personal and group counseling services, Natural Horsemanship techniques help each young man learn about himself and how to cope productively within society.
Boys live in bunkhouses in groups of five or ten. They attend High School classes to further their education while living at the teen boys ranch. A "Wrangler" is assigned to each group of five. This Wrangler will live with the boys and guide them through the boys ranch program. Each young man also receives weekly counseling. The boys ranch program lasts approximately 10 months.
The Five Levels of Therapy
Level One: Boys enter Ranch Life.
Each day consists of chores and ranch work. Boys receive counseling to help them adjust and to help them learn the value of correct choices (consequences). "Positive Experiences" are the basis of counseling and daily activities, teaching a young man to better his environment and opportunities with positive choices.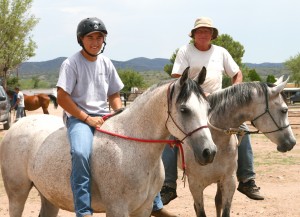 Level Two: Boys enter the world of horses.
Although they have little or no experience with horses they learn to respect and care for horses. Through positive and safe introductions to horses they overcome fears and develop the skills necessary to care for and ride a horse. They learn the psychology of a horse as a social (herd) animal and how to convert that knowledge to their own social interactions. Boys continue to have responsibilities with the daily ranch operations.
At level two boys are part of a team (5 boys) led by a Wrangler. This team participates in activities such as daily ranch chores, laundry, cooking and cleaning, as well as school classes. Each week, boys are paid for their ranch work with "Ranch Dollars" that can be used to buy privileges (like watching videos) or items at our "General Ranch Store." Boys receive bonuses for working together and promoting each other as a team. Through this each boy learns fiscal responsibility, how to budget, and how to work together.
Level Three: Boys receive a two- to three-year-old horse to train. 
Working with our trainers and wranglers, boys learn patience, sensitivity, and how a horse "mirrors" their emotions. Most or all of their work with horses is "ground work" (not on horseback). Through these activities, boys experience success, failure, overcoming adversity, communication skills, and positive personal growth.
Level Four: Boys begin advanced horse training and riding their horse.
They help mentor younger level one and two boys. They also participate in "imprinting" new foals, the selection and breeding process of Arabian horses, and are introduced to cattle work. They are given leadership responsibilities.
Level Five: Boys at this level are experienced on horseback and have shown responsibility.
They can now participate in activities away from ranch headquarters. (i.e., roundups, horse shows, community and ranch sponsored events). Level Five boys also serve in a judicial system used on the ranch for boys to settle disputes. Level Five boys serve as mentors to Level One Boys who are trying to adjust to "Ranch" life. They also have opportunities to interact with Arizona businessmen and educators who can, in turn, serve as mentors for their adjustment back into society.
All Levels
On all levels boys are responsible for laundry, cooking and cleaning chores, personal hygiene, and spiritual development. Each boy works closely with a "Wrangler," who serves as a guide and counselor on daily activities. Boys also have one hour of professional counseling each week, along with one hour of group counseling.
Therapy Consists of Four Key Ingredients:
1. Individual Counseling.
Each young man receives one session a week with a trained therapist. This therapist is trained to incorporate the daily experiences of the program into the young man's life. He helps the young man make the connection between "Equine Therapy" and real life.
2. Group Therapy
Each week every young man joins with his "family" group for a session led by a counselor. This provides a chance to develop communication skills, cooperation, relationships, empathy and understanding, and develop anger management skills, etc.
3. Family Groups
Each young man is in a family group with five other boys. This group is led by a trained Wrangler (staff member). Each staff member has been trained in "Arbinger Principles" and helps the young man understand these principles in his life. Every evening includes a reflection session to review the events of the day, write in a journal, and resolve any conflicts within the group.
4. Equine Therapy
A powerful therapy known as "Equine Therapy" is becoming very popular. There are many ways in which horses are used to help people, from handicapped children to hardened criminals.
Our Equine Therapy is much more than a "petting zoo." Although there is value in caring for another living creature, our program is based on a personal working relationship between a young man and his own horse (each young man is assigned a young horse that only he works with.) Because of a horse's instinct to survive and interact socially he is very sensitive to his environment and becomes a mirror of the young man's emotions and feelings. Through exercises in natural horsemanship, each young man must learn to communicate on the horses level and develop a trusting relationship that allows him to lead the horse without force or coercion. Through this process, the teen boy learns more about himself and his personal relationships with others than he does about horsemanship.
Why is Equine Therapy so Effective?
Those who are familiar with horses recognize and understand the power of horses to influence people in incredible ways.  By using horses to develop relationships, learning to care for horses responsibly, combined with horse training and professional horsemanship, a natural situation is created that affects the people involved in a positive manner.
The benefits of work ethic, responsibility, assertiveness, communication and healthy relationships have long been recognized. The professional use of horses naturally provides the setting for the development of these skills and values.  The ability to learn and grow is ever present for each person working with horses, and easily explains why the use of horses is growing and gaining popularity across the country.
People often ask, "Why horses? Why not other animals?"  Horses are large and powerful, which creates a natural opportunity for most people to overcome fear and develop confidence.  The size and power of a horse can be naturally intimidating to many people. Accomplishing a task involving a horse, in spite of those fears, creates confidence and provides an opportunity for the use of some powerful metaphors when dealing with other intimidating and challenging situations in life.
Horses are very much like humans in that they are social animals. Horses have defined roles within their herds, just as we do within our own groups of individual people.  They would rather be with their peers doing what they want to do, once again just like humans (especially teenagers).
Horses have distinct personalities, attitudes and moods — just as we do. An approach that seems to work with one horse, does not necessarily work with another.  At times, they seem stubborn and defiant.  They like to have fun.  In other words, horses provide vast opportunities for metaphorical learning.  Using metaphors, in discussion or activity, is a very effective technique when working with even the most challenging individuals or groups.
Horses require hard work, whether in caring for them or training them!  In an era when immediate gratification and the "easy way" is the norm, working with horses requires humans to be engaged in physical and mental work to be successful; a very valuable characteristic in all aspects of life.
Most importantly, horses have the ability to mirror exactly what the human's body is telling them.  Many people will complain, "The horse is stubborn, the horse doesn't like me" and on and on. But the lesson to be learned is that if they (the humans) change themselves, the horses respond differently.  Horses are honest, which makes them particularly powerful messengers.