Gateway Boys Academy

Gateway Boys Academy helps teenage boys who have gotten off track in life; boys who need discipline in their life and renewed respect for authority. Gateway features all of the elements that will have the most positive life-long impact on boys in the shortest possible time, administered by loving mentors and peers who encourage them to succeed.
The boys academy, accredited school, working ranch and farm, counseling and mentoring, competitive team sports, spiritual emphasis and our hands-on outreach to the community and missions trips to third world countries all combine to make young men all they can be, and more.

Read the testimonials and imagine the impact this boys program can have on your son who is struggling or perhaps has gotten into trouble with the law or has given up on school.
Gateway Boys Academy is made up of caring, concerned staff, many whom have been in your situation with their own children. Our purpose in life is to help a self-destructing teenage boy do a turnaround and begin looking at life differently. Boys are given a new purpose, a new drive, and a new passion to be a better person and to serve others.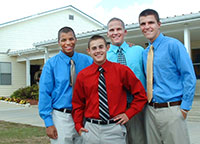 If you could see the before and after pictures of boys who have come through our program, you would see a striking change to confident, happy young men. You would see selfish boys with a chip on their shoulders who are now ready to give the shirt off their back to someone in need. You would see boys without purpose who now have solid goals and direction for their life.
A year ago we were hurting and at a loss. This year we are missing our boy but knowing that he is in loving and capable hands. We are so proud of him. — Rachel (parent)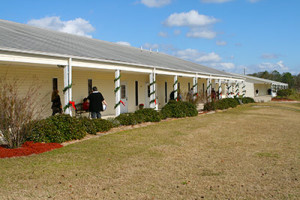 Gateway Boys Academy was the best decision we have made in our entire life. Our son's life was saved from destruction on this earth and for eternity. The education at Gateway was the finest he could have received anywhere. He became a self-disciplined student with motivated study habits and finished with a 3.9 GPA. He now has the desire and compassion to serve in his community and church, as well as tutoring and mentoring younger kids. — David and Joy (parents)
We had tried everything we could think of for our troubled son — tough love, Christian counseling, traditional church activities, and homeschooling. But all were to no avail. The boys school format of Gateway Boys Academy taught John self-control, physical work and teamwork, leadership skills and integrity. John received love, discipline, forgiveness, and persistent mentoring from dedicated staff members. Gateway Boys School is a God-send for our broken family…restoring our relationship with our son. It is a place of hope, a place of love, and a place of renewal. — Jessica (parent)
Gateway Changes Lives
Initially, like other boys schools, Gateway's structure focuses on teaching accountability and self-discipline. At home, parents generally want their sons to do their homework and keep their rooms clean. In a boys self-disciplined environment, young men participate in study hall and have room inspections. Mastery of the basics provides the first steps up on the ladder of success.
With patience, understanding and a little tough love, most young men discover more to life than struggling, or sometimes fighting, with those who care about them. This success can be trained. It is not magic.
Most students are surprised to learn that the boys school at Gateway is not what they expected. The initial fear of the unknown can be great with new cadets, but every cadet has been there. The anxiety of a different type of school culture plus the adventure of being away from home can be overwhelming at first. This is a shared feeling. But, those cadets also know that the feeling passes once the discipline system is learned.
A MISSION OF BUILDING ACHIEVEMENT WITHIN EACH YOUNG MAN. BEYOND LEARNING THE BASICS, THERE IS A RANGE OF OPPORTUNITY AT GATEWAY MBOYS ACADEMY JUST WAITING FOR YOUNG MEN TO DISCOVER.
Seldom is there opportunity for a young man to lead five, ten, twenty or more peers while in high school. Young men at Gateway can reach positions of responsibility and learn leadership skills, which often transfer to college and the world beyond.
Engaging academics in a structured environment is often easier for most, and it helps young men see a brighter future in terms of applying to college. Challenging a young man while his thoughts are big and his future is open is a wonderful part of what we do at Gateway.
Participation in athletics is strongly encouraged at Gateway. Sports teach teamwork and camaraderie. These are invaluable interpersonal skills for a world absorbed by computers and gadgets. Knowing how to work with others is a critical skill taught by our boys school.
TEACHING DISCIPLINE
Gateway is not the simple path. For faculty, staff and cadets, a boys school environment is hard work. In the classroom, on the parade field and with the teams, the Gateway family strives for the betterment of each student, and the restoration of the family.
Over 1,000 boys from every state in America, and some international students, have attended Gateway. During their first 4-5 months, boys practice the disciplines of a disciplined regiment in the boot camp atmosphere of Jacob Platoon. Drill instructors lead them in daily physical training and boys school drill exercises. Household and farm chores are also part of each cadet's daily routine. Earning their rank advancements through weekly evaluations and academic hours completed, cadets move from E-1 "Private" to E-8 "Master Sergeant." When they enter Isaac Platoon, they are eligible to travel with ministry teams and sports events away from the campus.
Every Friday afternoon, all cadets receive applause for advancements in academics as well as rank. On monthly parent visit events, our Color Guard drill and ceremony present a spectacular marching and rifle team exhibition.
Gateway has open enrollment, year-round.